6 tags
5 tags
7 tags
Good day of painting. I look like a living version of one of my paintings right now. I'm covered in paint from the back-splash.
6 tags
When I'm not painting, I like to stare.
11 tags
5 tags
World's Worst Art Restorer Demands Royalties:
— World's Worst Art Restorer Demands Royalties: Well-meaning but inept art restorer Cecilia Gimenez, whose attempt to restore a 19th-century fresco in Spain resulted in internet fame, a huge surge in visitors for the church where she volunteered her conservation services, and an unexpected spot on ARTINFO's recent list of the 100 most iconic artworks of the last five years, is now...
2 tags
Don't you hate it when somebody says "Everybody does ….." How would they know unless they were everybody?
4 tags
6 tags
Awesome. The weather is actually nice for the first time in forever. Think I'll do some large scale painting in the garage today.
9 tags
The Last Minute Every Time.
It seems no matter how early I began preparation for each of my shows, I'm still painting until last second before each one, EVERY TIME.  This time is no different.  My show is the day after tomorrow and I was planning on staying up tonight and working through tomorrow until everything is done.  I made sure I had everything I needed to accomplish this but I miscalculated and used more medium...
6 tags
Just found out one of my paintings has been counterfeited. What a strange feeling to see my art done by somebody else.
5 tags
7 tags
I've done more painting today than I have in ages. Something about a paid day off I must find inspiring.
7 tags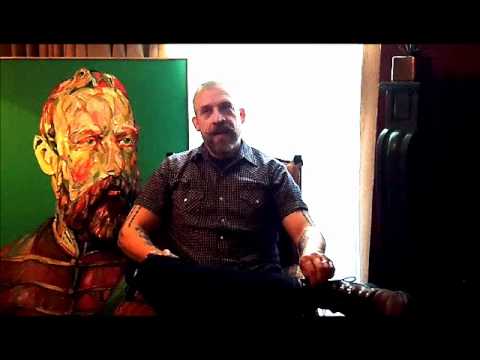 6 tags
Art a GoGo Podcast →
This is one of my favorite art related podcast other than the fact that they don't make very many episodes a year.  In this episode they discuss Lucian Freud's exhibition in Fort Worth Texas.
8 tags
7 tags
7 tags
Would somebody wake me when it's 1980?
Ever feel like you don't exist?
Wish I could go back to the time this one was...
6 tags
Finished restoring "Temptation Watches".  That thing was a beast.
7 tags
Restoration
Repairing a painting I sold back in December.  It's strange working a a piece I finished half a year ago. Temptation Watches Acrylic on panel  24" x 48" by Mark Masters Commission piece SOLD
7 tags
HOW THE HELL?
Went to the high school today to pick up my sons schedule and show him around.  We ran into my old art teacher which I haven't seen in 28 years.  He was my favorite teacher and seeing him again was very inspiring.  One problem though; HE LOOKED YOUNGER THAN ME!!!
5 tags
No wonder nobody can figure an artist out.  I can't even figure myself out.
5 tags
I'm thinking about waking my son up so I can tell him to take a nap.
6 tags
I don't have to deal with a bunch of redneck jerks today so I think I'll push some paint.
5 tags
I forgot to screw the lid back on my new jar of heavy gel medium and didn't notice it for a couple of days; long enough to dry it out thoroughly.  That was money well spent.  I suck.
4 tags
I haven't been on here in awhile.  Too busy not painting.  I suck.
12 tags
Just sold "the Forbidden Fruit".
Just sold "the Forbidden Fruit". This is one of my more popular pieces from 2007.  I'll miss it but it's going to a good home.
12 tags
What other people see as my horrors I create are the guardians that watch over me as I sleep.
7 tags
Stolen Art
Has your artwork ever been stolen?  Ten years ago all of mine was.  It really sucked but I thought afterward at least it was good enough to steal.  It was kind of a strange feeling when some of it started turning up on eBay.
10 tags
The Rules of Art in School
I've spent a lot of my time since school trying to forget most of the things they taught me about art.  One such thing being is to never use black.  I can understand it if you are a photo-realistic artist because true black in nature doesn't exist but I'm an expressionist that likes high contrast and for that you can't beat black.  They should have taught us to follow our...
8 tags
"The progress of an artist is a continual self-sacrifice, a continual extinction..."
– T.S. Eliot, Tradition and the Individual Talent, 1919
9 tags
"No great artist ever sees things as they really are. If he did, he would cease..."
– Oscar Wilde
11 tags
Movies, Documentaries, Books, and Podcasts about...
For a few years now I've been compiling a list of Movies, Documentaries, Books, and Podcasts about art and artists.  If you can think of any to add to this list please let me know.  As far as podcasts go I'm mainly interested in the ones that are current and still running or that are so exceptional they are timeless. Movies -Art School Confidential -Basquiat -Camille Claudel ...
11 tags
"The artist is the opposite of the politically minded individual, the opposite of..."
– Henry Miller
10 tags
"Anyone who says you can't see a thought simply doesn't know art."
– Wynetka Ann Reynolds
10 tags
"Art is a collaboration between God and the artist, and the less the artist does..."
– André Gide
9 tags
"It is a mistake for a sculptor or a painter to speak or write very often about..."
– Henry Moore
7 tags
Looking forward to having two days off in a row for the 4th.  Hope I get a visit from the creative muse.
5 tags
I like the new direction my work is taking but now it can only be custom framed.  Oh well small price to pay for artistic expression.
12 tags
5 tags
My all time favorite song.  Really inspiring.  It...
8 tags
Vacation is over. The beat goes on.
Sadly today is the last day of my vacation.  It went by too fast as I knew it would.  Fortunately it was one of the best vacations I've ever had.  It was the first one in the new house so I had a studio to work in.  I was more productive last week than I've been in years.  I'm working on six paintings and like how they are turning out.  My work is changing and I like the...
8 tags
"Painting is easy when you don't know how, but very difficult when you do."
– Edgar Degas
9 tags
"An artist cannot fail; it is a success to be one."
– Charles Horton Cooley
8 tags
"I don't paint things. I only paint the difference between things."
– Henri Matisse
7 tags
10 tags